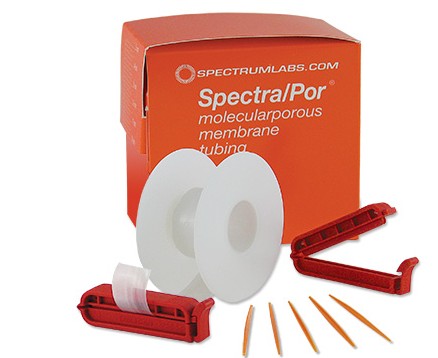 透析袋MD10(3500-5000)
产品型号:

133192
产品规格:

1米/卷
产品类型:
产品品牌:
价 格:

600.00
High Purity & Tolerance Dialysis Tubing & Trial Kits
Biotech RC is Spectrum's premium dialysis membrane crafted from a regeneration process that yields superior temperature tolerances and chemical compatibilities while maintaining the same high purity and selectivity as Biotech CE. RC membrane can tolerate concentrated-weak acids & bases, dilute-strong acids & bases, most alcohols and some mild or dilute organic solvents. Exposure to strong polar or organic solvents may damage RC membranes. Use with pH 2-12 & temp 4-60 °C. Biotech RC is available in economic 5 meter rolls and 0.5 meter length Dialysis Trial Kits, ideal for membrane evaluation and small applications.
FEATURES & BENEFITS
Superior chemical compatibility and temperature tolerance
Rigidly controlled porosity for better selectivity & separations
Ultrapure with no trace heavy metals & sulfides
3 MWCO's and 2 tubing flat-widths
Does not interfere with macromolecular activity & function
Packaged dry with glycerin (soak 15 min in water)
Biotech RC Dialysis Tubing

(5 meter/roll)
Economy packaging provides a 5-meter supply of a particular RC tubing MWCO & flatwidth to meet the demands of ongoing & frequent dialysis applications.
Product Specifications:
| | |
| --- | --- |
| Properties: | Hydrophilic, symmetric porosity |
| 3 MWCO's: | 3.5-5 kD, 8-10 kD & 20 kD |
| 2 Flat Widths: | 10 mm & 16 mm |
| Qty & Pkg: | 5 meter/roll, dry with glycerin |
从
1970
年起,
spectrumlabs
便开始为生物分离与细胞株管理开发生产出多种革命性的产品。
spectrumlabs
产品广泛用于药物、诊断、食品、饮料及工业流体的过滤、澄清、隔离、净化与浓缩过程。
spectrumlabs引领了透析膜与透析装置、一次性中空纤维过滤器与过滤系统的技术趋势和产品开发。 spectrumlabs也提供高分子液相膜和制备用低压液相色谱产品。
spectrumlabs的膜与膜过滤器用于粗滤,微滤,超滤,渗滤,透析与提取。spectrumlabs有超过2000类产品,范围从小型一次性过滤器到高产能过滤系统,您一定能找到您所需的应用产品。
Spectrumlabs
的实验透析产品分为
微量透析装置
(
Micro Float-A-Lyzer
),
悬浮透析管
(
Spectra/Por
®
Float-A-Lyzer